If you are an individual in financial need
If you live in Edinburgh and are experiencing financial problems, we are here to help. We can't accept applications directly from individuals, but you can find out how to contact an organisation who may be able to apply on your behalf.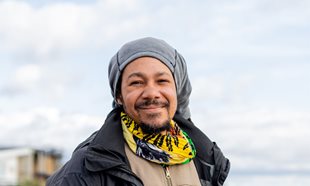 Can I apply for a grant?
If you live in the city of Edinburgh, have low household income and a low amount of savings or money, then you may be able to apply for one of our grants.
If you are currently living in poverty or experiencing financial difficulty, our grant could help with meeting some of your essential living costs, provide some breathing space and reduce some of your financial pressure.

Or if you have recently experienced a change in circumstances that has left you financially insecure, or are facing a sudden financial burden, our grant could help by meeting some of these unexpected needs.

Or if you can see opportunities to improve your financial situation, perhaps through a new job or training, a grant could help you access these opportunities by meeting some of these expenses or costs.
Our Eligibility Criteria:
In order to meet our criteria you must:
Live in the City of Edinburgh Council local authority area (EH1-17 and 28-30)

Have a low (or no) household income (below £16,000 annually)

Have a low (or no) amount of accessible savings or money.

Not be a full time undergraduate or post graduate university student.
If you have already had a grant from us recently then you would need to wait until two years have passed before making another application.
Grants are charitable funds, they don't need to be paid back, and they shouldn't interfere with benefit payments.
Please note, there are some things that we're not able to provide a grant for, such as private dental and medical costs, business start-up costs, loans, legal fees and school fees.
Who can I make an application with?
Edinburgh Trust grants can only be applied for through registered organisations. We call these organisations 'referral partners'. Currently, only organisations on this list are able to apply.
You can find out more about our referral partners, including their contact details, by visiting our referral partners directory.
What is the application process?
The application is made online through our website, but if you would prefer to see a paper copy of the application form then your referrer can print this out to go through it with you.
The form is a few pages long and asks for some of your basic details such as name, address, date of birth, and then we ask some additional questions about your financial situation, your income, and if it's relevant, you can tell us about any other personal or health issues you're living with.
These questions help us understand your current situation so that we can see how best our grant could help. For example, knowing what your immediate financial needs and your longer-term hopes are, helps us to make sure we can award the right amount of money, if this is a one-off payment or paid over a few instalments, and whether there is any other support or information we know of that might also help.
In order to check that your income and capital (the amount of money you have) are within the criteria for our grants, your referrer will either ask to see copies of your documents (e.g., benefit letters, payslips, bank balance) or will have a conversation with you to make sure you're eligible. You don't need to send us any of these personal documents.
However, we will ask for a picture of the front page of your bank card (if you have one) to show us your name and bank details. This acts as a simple ID check and also means we have your correct details for making a payment.
We will also ask you to sign a form that confirms the information on the application and gives us permission to process your data (GDPR) in order to do our assessment. If you want to learn more, you can read our privacy policy on our website or we can post you a copy.
What happens next?
When the application is submitted to us by your referrer, we will get an email to tell us it's arrived, and someone within the team will start looking at it within one or two days.
If we have any questions about the information on the form we'll get in touch with the person who made your referral. This will probably be by email. If you have your own email address, and put that on the application, we can make sure to include you in anything we ask/send.
We would expect to make a decision on the grant application within 10 days but in many cases it can be much quicker than this.
If we're not able to offer a grant we will write to the person who made your application (and you if we have your email address) to explain why.
If the application is successful, we will then arrange to make payment to you. Unless you specifically ask otherwise, we will usually make the payment directly to your bank account. In some circumstances people prefer to have a grant paid via the referral organisation for a 'supported spend'. This means that your grant is paid to the organisation that made your application and they will support you to buy the things you need. You and your referrer can let us know how you would like to be paid on the application form.
The amount of grant is usually between £500 and £1,000. We normally make a one-off payment, but if the grant would be better split across two or three payments, we can do that instead. Again, just let us know on the application form.
We make payments by BACS, so when the money leaves us it can take 3-5 working days to clear in your account. Once the money is in your account it is yours. It's not a loan and so you don't need to pay anything back, and we don't ask for receipts.
Will I hear from you again?
Yes! Feedback is critical for us and so we are always keen to understand how the grant has made a difference to you, and we also want to know what you thought of the whole process of making an application. We want to be able to get better at what we do.
A few weeks after we've paid the grant, our team will make contact, either directly or through your referrer, to check in and ask for an update on how things are. If you don't wish to hear from us directly after your application is complete, please let us know on the application form.
If you don't hear from us, or if you have any feedback to share at any other time, please feel free to get in touch.
Ph: 0131 202 2215 / edinburgh@turn2us.org.uk
Struggling with money?
We're here to help. View our step-by-step guide to applying for a grant.
This guide is available in 18 languages including English.
View info sheet